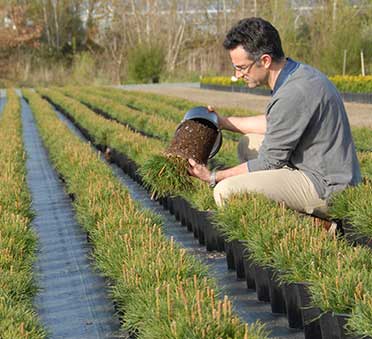 The Anjou region
Founded in 1838, in the Anjou region (vegetal axis of France), also known as « the garden of France », Minier Nurseries has gathered, on these lands, more than 300 hectares of one of the largest production of plants for gardens and terraces in Europe, along with an exceptional vegetal collection, useful for creating novelties.    
The mild climate, summer warmth, along with the fertile river Loire silt, are more than favourable for the production of rustic and hardy plants, guaranteeing vigour and early flowering. Minier proposes a large choice of trees, fruit trees, shrubs, conifers, climbers, bamboos and grasses. Our specialities are Hibiscus, Hydrangeas, Magnolias, Syringas and Wisterias. Every year, 4 million formed plants and 10 million young plants, are sent all over Europe. Our varietal creations are not only diffused around Europe, but also to the United States, South Africa and Japan.
« We aspire to keep up with a changing market (…) More and more, customers require stylish plants, with particular colours and scents, and graphic shapes. »
Michel Nicou, Directeur Général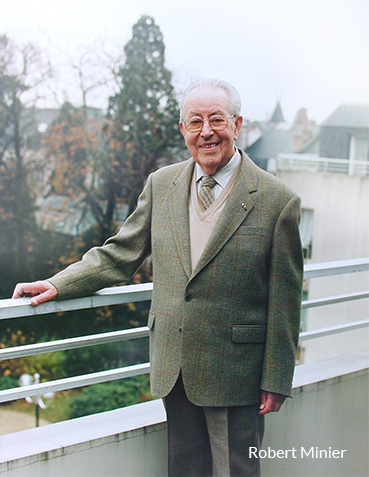 Robert Minier incarnated pioneering and passion, the embodiment of renowned nurseries, to all professionals of this sector in France and abroad.  Since the end of the 2nd World War, and for over 40 years, he inspired continual research : improvement of production methods, creation and collection of novelties using recent scientific progress. He opened his company to french and foreign customers and partners, always listening to others, with collaborative and creative purpose. He surrounded himself with colleagues and contractors « the Minier Team », men and women with expertise, who invested and contributed to the development and influence of the 175 year old company.
This spirit, always present to this day, enables Minier, not only to be recognized all over Europe and create links with the best specialists, but also to guarantee future solutions for all of its customers and gardeners
To accelerate development, the Minier team appealed to subcontracted producers, guided by notions of collaboration, sharing, and territorial anchoring to construct its network. It was therefore quite natural that Terrena, a Cooperative Group to which many of these subcontracted producers belonged, did not hesitate to continue the production of the nursery by integrating the company into its activities.
With this integration, Minier can count on a Cooperative Group, who takes economic responsability for its members and has the ambition to promote the cooperative spirit, by constantly taking initiatives to create new partnerships, modernizing sectors and optimizing the competitiveness of all activities.
Important dates
1838 :

Creation of the Company, horticultural establishment and nursery, by Mr. HALOPÉ

1872 :

Due to a marriage, the company becomes MINIER-HALOPÉ. The main productions are Camelias, Rhododendrons and Azaleas

1918 :

Minier-Halopé becomes MINIER, and starts developping the production of young plants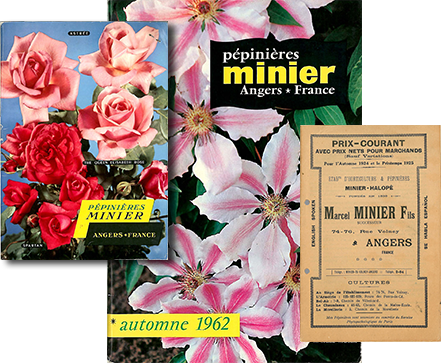 1933 :

Minier owns 20 hectares and has 45 employees. Robert Minier starts expanding the company

1950's :

Development of the activity to multiply and sell young plants

1968 :

Start of culture in containers and sales to Garden Centers

1973 :

Transfer of parent plants to Ménitré

1978 :

Minier owns 250 hectares and has 270 employees

1980 :

Transfer of Head Office and certain plants to Beaufort-en-Vallée

1981 :

The company is puchased by SAFI (a financial institution)

1985 :

Minier purchases the Nursery LEPAGE. The sale of adult plants to Garden Centers becomes the principal activity

1997 :

The company is bought by CAVAL (A coop, later becoming Terrena)

2002 :

Construction of the new logistics platform at Beaufort-en-Vallée

2012 : Launch of the Minier Professional Solutions brand for growers
2015 :

Creation of the new entity « Hortival Diffusion » and the brand for professionals « Minier Solution Pro »

2016 : Launch of the SILENCE, ça pousse ! brand for specialist retailers
2020 : Creation of Formidable Plant Breeders (R&D department)